Dove, Chicken, & Sausage Gumbo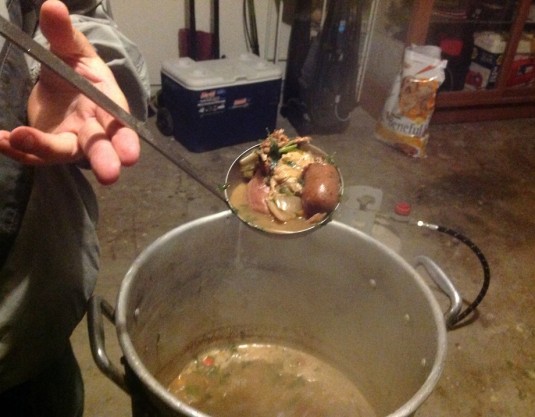 Prep time: 30 mins
Cook time: 40 mins
Total time: 40 mins
A gumbo for those that love the dove.
Ingredients
​​​​​1 16-oz jar Savoie's® Old Fashioned Dark Roux
​​​​​20 Dove Breasts
​​​​​20 Chicken Legs
​​​​​3 Pounds Savoie's® Jalapeno Pork Sausage, Cut into 1 Inch Pieces
​​​​​3 12-oz Beers
​​​​​2 Gallons of Water
​​​​​2 Large Red Onions, Chopped Coarse
​​​​​3 Large Red Bell Peppers, Chopped Coarse
​​​​​4 Large Garlic Pods, Minced Fine
​​​​​6 Large Stalks Celery, Chopped Coarse
​​​​​1 Cup Green Onion, Chopped Coarse
​​​​​1 Cup Parsley, Chopped Coarse
​​​​​Kosher Salt "To Taste"
​​​​​Black Pepper "To Taste"
Directions
Bring your dove and chicken to room temperature if they have been in the freezer or refrigerator.
Cut sausage into 1 inch pieces and put them into a separate pot, cover with beer, and simmer uncovered on medium heat.
Thoroughly dissolve one 16 once jar Savoie's® Old Fashioned Dark Roux in 2 gallons of water with frequent stirring while bringing it to a boil in your gumbo pot.
While your water is heating and the roux is dissolving, prepare your vegetables. Don't forget to stir your roux and check your sausage.
Once your roux is thoroughly dissolved and boiling reduce the heat and stir in kosher salt and black pepper "to taste".
Increase heat on the sausage and bring it to a boil. Once it boils, take it off and drain the liquid.
Serve with shredded cheese.
Place dove, chicken, sausage, and vegetables minus the green onions and parsley in your gumbo pot, turn up the heat and bring to a boil.
Lower the heat and simmer stirring occasionally until the chicken is tender.
Once the chicken is tender stir in the green onion and parsley.
Taste the liquid, add salt and pepper if needed, then simmer for 10 more minutes.
Remove gumbo from heat and allow it to "rest" for 5 to 10 minutes.
Serve in a bowl over rice and laissez les bon temps rouler!