Tator Tot Taco Bake Casserole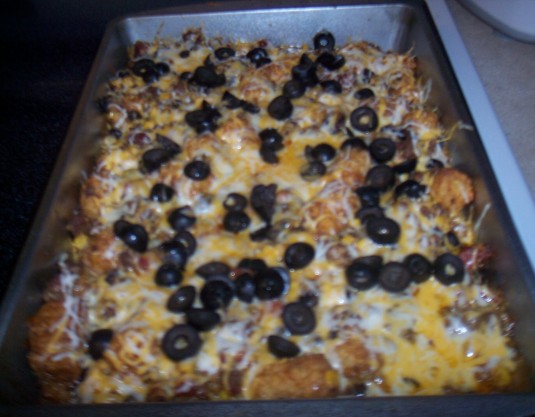 Prep time: 15 mins
Cook time: 40 mins
Total time: 55 mins
Serves: 8
Ingredients
​​​​​1 lb. ground beef meat
​​​​​1 lb. coarsely chopped, Savoie's® Sausage
​​​​​1 small onion, diced
​​​​​1 clove garlic, diced
​​​​​1 small can sliced black olives, drained
​​​​​1 pack taco seasoning
​​​​​1 can corn- 16 oz, drained
​​​​​1 can green chilies, drained- 4 oz
​​​​​1 can black beans, rinsed and drained, 12 oz
​​​​​1 bag Mexican cheese blend, - 16 oz
​​​​​1 bag tator tots- 16 oz
​​​​​1 can enchilada sauce - 10.5 oz
Directions
Preheat oven to 375 degrees.
Spray a 9x13 baking dish with cooking spray.
On stove-top, cook ground beef, onion, and garlic until brown. Drain off any excess fat.
Add taco seasoning, green chilies, corn and black beans to ground meat. Cook until heated through.
In a large bowl, combine meat mixture, ¾ of cheese blend, and all of the tator tots. Stir well to combine.
Pour ⅓ of the enchilada sauce in bottom of prepared baking pan and put meat mixture in, lightly patting in an even layer. Pour remaining enchilada sauce over mixture.
Place in oven and bake.