Cajun Chicken Paella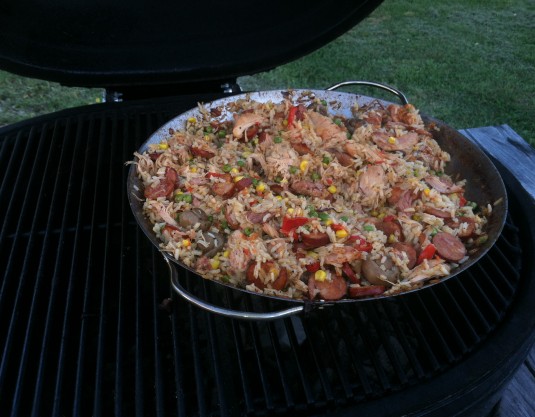 Prep time: 20 mins
Cook time: 2 hours
Total time: 2 hours 20 mins
Serves: 8
Paella is a rice dish that originated from Spain. Their version of a jambalaya cooked using ingredients like rabbit, snails, clams, and vegetables. I use a paella pan and cook it over wood coals on a BBQ pit, but any shallow skillet should work. Go to Zookdesign.com and click on the Pinterest button, then the cooking board for step-by-step photos.
Ingredients
​​​​​8 boiled chicken thighs
​​​​​1 lbs Savoie's® andouille sausage (chopped)
​​​​​1 large red onion (chopped)
​​​​​1 red bell pepper (chopped)
​​​​​32 oz chicken stock
​​​​​1 jar button mushrooms (optional)
​​​​​1½ cup long grain Jasmine rice
​​​​​8 oz frozen corn
​​​​​8 oz frozen peas
​​​​​1 tbls olive oil (maybe a little more)
​​​​​½ tsp salt (adjust any of the seasonings to taste)
​​​​​1 tsp black pepper
​​​​​½ tsp cayenne pepper
​​​​​½ tsp red pepper flakes
​​​​​1 tsp paprika
​​​​​Juice of ½ lime
Directions
Boil Chicken for 30 min, cool, then remove skin and bones.
Heat olive oil in pan on hot grill.
Brown chicken and andouille sausage in pan. Add onions and red peppers. Cook for about 15 min.
Add mushrooms (optional), chicken stock, and seasonings. Bring to a boil and let cook down some.
Add rice, peas, and corn. Let cook until the rice is done. (about 45 min depending on the heat)
Stir as the liquid is absorbed.
Once rice is cooked add the lime juice.
Serve hot!