Shrimp Tasso Pasta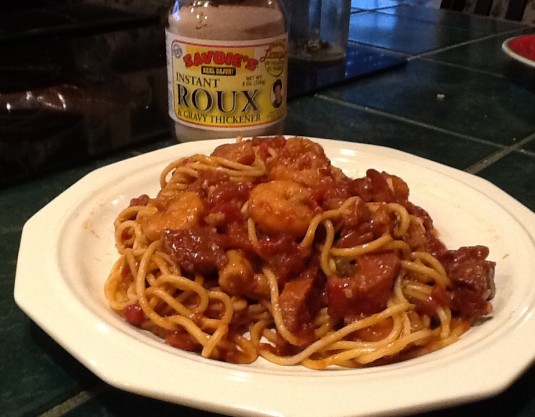 Prep time: 18 mins
Cook time: 30 mins
Total time: 48 mins
Serves: 6
I like to name this "Cajun meets Italian" - a very quick and tasty meal that combines the wonderful Savoie's® hickory smoked pork tasso with one of our Louisiana favorite seafood - shrimp. It's the Cajun version of "Surf and Turf." Add a side salad and Garlic Baguette and you have a dinner that can dress up or down for the occasion. Bon Appetit!
Ingredients
​​​​​2 lb. Large Louisiana Shrimp (raw)
​​​​​1- 8 oz. pack of Savoie's® Hickory Smoked Pork Tasso
​​​​​¼ C. Olive Oil
​​​​​2 T. Minced Garlic
​​​​​2-10 oz. cans of Diced Tomatoes and Green Chilies (Hot or Mild or one of each)
​​​​​2-Packages of Brown Gravy Mix
​​​​​2 C. Water
​​​​​2 T. Savoie's® Dry Roux
Directions
Thaw shrimp and place in a colander so that excess fluid is removed.
Cube the tasso into 2 cm pieces.
Heat olive oil in a skillet on medium high heat. Add garlic and saute' until browned. (Approximately 3 minutes.)
Add drained shrimp and saute until pink on all sides.
Add Savoie's® tasso cubes and heat thoroughly, about 10 minutes on medium high heat.
Add the dry brown gravy mix and mix evenly into shrimp-tasso mixture.
Mix Savoie's® Dry Roux with the 2 cups of water and add to the skillet stirring until the mixture thickens to gravy consistency.
Simmer for about 15 minutes and turn the heat down to lowest setting until you are ready to serve guests.
Spoon over hot pasta such as angel hair pasta, spaghetti or Penne Pasta.